"Original equipment manufacturer (OEM)" is a widely used but poorly defined term. In general, it refers to a manufacturer that provides components or sub-assemblies to another one for use in the latter's end products. In the GNSS industry, the purchasers of OEM boards typically are manufacturers of products that require positioning or navigation capabilities, such as guidance systems for tractors, UAVs or automobiles. Sometimes, such manufacturers integrate the OEM GNSS receivers with other sensors, such as inertial measurement units and lidar devices. Often, the OEM also will provide technical support to the integrator.
Much of the OEM business is not visible to the end user of the equipment that contains OEM components, let alone to the casual observer, because those components are "inside the box," such as a guidance system, and "the box," in turn, is under the hood or in some other hidden place. There is almost never a sticker on the outside analogous to the one that says "Intel inside" on many computers to distinguish the Intel CPU inside from, say, an AMD processor. Furthermore, OEM sales are typically obscured by confidentiality provisions in OEM licensing agreements that also address issues of branding, payment, quality assurance, and the timing of deliveries.
Integrators can choose from a wide variety of OEM GNSS boards depending on their intended use; the environment in which they will operate; their performance requirements; and their size, weight, power consumption and (of course) cost. OEM GNSS boards range from development kits that assist users to integrate GNSS into their product design to differential, multi-frequency, and, increasingly, multi-constellation boards.
JAVAD GNSS Ready for Lift-Off
JAVAD GNSS has been transitioning to a new position in the market since the passing in May 2020 of its founder, president and CEO Javad Ashjaee, a giant of the GNSS industry. For several decades, the company eschewed mass production for such markets as the automobile industry and cellular phones, choosing instead to focus primarily on high-accuracy surveying applications.
"Our founder really loved the surveying market, created a lot of technology, and drove the rest of the industry through the evolutionary process to where it is today," said Tom Hunter, the company's chief sales officer. "You can see a little bit of JAVAD GNSS in just about any GNSS-based land survey product on the market today."
At the heart of each of JAVAD GNSS' OEM boards is a proprietary ASIC. The boards it sells are the same ones it uses in its own reference stations, land survey products and marine systems, Hunter said. Aerospace is a key focus, an industry that requires very high accuracy, precision and reliability despite operating in environments of extreme shock, vibration, acceleration and temperatures.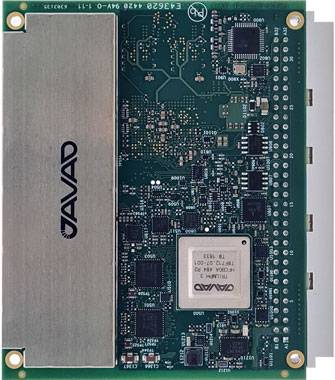 "Our successes have been in working with many of the companies that build these very large launch vehicles used to carry heavy payloads into orbit," Hunter said. "Our customers are companies such as Orbital, Northrop Grumman and SpaceX." Those heavy-duty launch vehicles, he pointed out, must also follow a pre-described flight path. "You don't want to start another world war because another country sees something heading its way."
Tracing All Components. JAVAD GNSS' boards "have complete component traceability," Hunter said. The company does not buy any of its components from brokers. "We have to buy either directly from the manufacturer or from the manufacturers' designated distributor, and it has full part traceability in our own factory in San Jose, California." Should a component ever fail, the company could quickly trace when and where it was made. "That's very important when we're dealing with customers such as NASA, the Air Force or Boeing, because the safety of flight depends upon the performance and the quality of the product."
The company will soon supply a receiver that will spend about four and a half to five years in orbit on a cluster of small low-Earth-orbit satellites, Hunter said. (See "JAVAD Board Guides ESA Vega Mission" below.)
To make sure none of its products are exported illegally from the United States, JAVAD GNSS also traces where each one ends up. "We know where every one of those boards is."
JAVAD GNSS must guarantee its aerospace customers, which have invested millions of dollars in designing their systems, that each model of its devices will remain exactly the same. Hence, it bought from some manufacturers their entire inventory of certain components, in case they discontinued making them, and certifies each
JAVAD GNSS' products are more expensive than those from other manufacturers because they are better, Hunter claimed. "We use really high-performance, temperature-compensated oscillators in our boards to make sure we have precise timing. We use a custom ASIC that we designed and built. Our receivers have 864 channels, so they can receive just about anything broadcast in the L-band." The company constantly upgrades its devices to match modernization of the signal structures.
"I can remember when the rest of the industry was saying, 'You have a 12-channel GPS receiver? You're nuts! I mean, who uses that much information?'," Hunter recalled. "Today, we're using every signal that comes out of GPS, whether it be L1, L2, L5, L1C, and the same thing with all of the GNSS constellations." For example, when Japan will begin to broadcast its new QZSS signal soon, "we're ready not only to find it, but to track it, decode it, and utilize it for position and timing solutions." Anti-jamming and in-band interference rejection are standard in JAVAD GNSS' products, while those from other manufacturers require external filtering or different types of antennas, Hunter pointed out.


New Leaders and Markets
After Javad Ashjaee — JAVAD GNSS' founder, president and CEO — died in May 2020, Tom Hunter, who co-founded Ashtech with Ashjaee in 1987, returned to the company after a five-year retirement.
"He left the company with an awful lot of technology, a lot of patents, and a lot of people who knew how to design and build products, not only for today, but for the future," Hunter explained. "They needed some guidance."
So, in January, Nedda Ashjaee — Javad Ashjaee's daughter and his close collaborator for the previous 25 years — and the board of directors asked Hunter to rejoin the company. "They said that they wanted me to help them make sure that we can be on a path where we can use our core technologies and enter into new market segments and new marketplaces."
Hunter added, "We made some changes to how we introduce surveying products into the marketplace." The company no longer sells its products directly to end users. Rather, it goes through a new process and channel for getting products into the marketplace. It also brought on board a new chief technology officer this summer who will be driving engineering efforts. "We are becoming market driven. And to do that we needed to expand our marketing, sales and engineering capabilities. We are changing every aspect of the company," Hunter said.
JAVAD GNSS actually consists of two companies in San Jose: JAVAD GNSS, which designs, markets and sells products, and JAVAD GNSS EMS, which manufactures them. It also has a presence in Moscow — the company hired many engineers following the collapse of the Soviet Union, many of whom had worked on GLONASS. "Javad looked at that as an opportunity to hire them and use them to develop a multiple constellation receiver," Hunter recalled. However, as a subcontractor for U.S. government projects, it is much easier for JAVAD GNSS to operate on U.S. soil with engineers who are U.S. citizens. "We're expanding our San Jose operation to include on-site engineering development, not only in RF, but also in digital signal-processing software." The company will continue to receive schematics from its Russian subsidiary. "Instead of exporting technology, we're importing it."
JAVAD GNSS is now moving into markets that did not interest Javad Ashjaee. It recently launched new products in the machine control, marine navigation and accurate heading markets, as well as the agricultural and construction markets, with integrated sensors that can be readily installed on various machines. Other GNSS manufacturers have been producing such devices for decades, Hunter acknowledges. However, he adds, "ours will be able to use multiple sources not only for satellite- and terrestrial-based corrections, but a combination of those."


JAVAD Board Guides ESA Vega Mission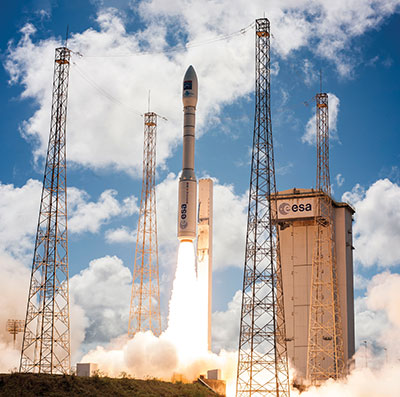 A JAVAD OEM GNSS board is at the heart of the navigation system of the Vega space vehicle developed by the European Space Agency (ESA). ESA developed Vega to launch small satellites into low Earth orbit. It provides great flexibility of mission at an affordable cost and represents the European solution for space accessibility.
The JAVAD OEM GNSS board is embedded in the gle/RGU/G2T/HDA/MB1 — a cost-effective, high-performance, compact and rugged GNSS receiver specifically designed and environmentally qualified. Installed on the upper stage of the VEGA launcher, it allows accurate trajectory verification during the entire flight mission.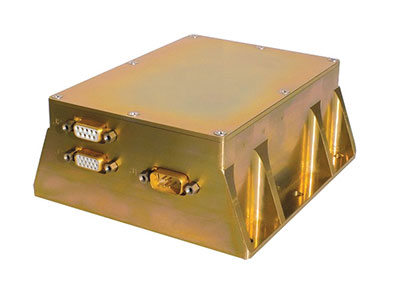 ESA's initial request was for a GNSS unit built with commercial off-the-shelf components, thus maintaining low costs, but which could still operate in the extreme vibration and shock conditions typical of a space launcher. After an initial feasibility analysis, GreenLake Engineering — a subsidiary of Instrumentation Devices — developed the unit mechanically and electronically to satisfy ESA technical specifications. Its biggest challenge was to pass ESA's extensive qualification and quality process.
For many years, Instrumentation Devices (based in Como, Italy) and JAVAD GNSS have been partners. Instrumentation Devices sub-contracted for the Vega project with Avio (based in Colleferro, near Rome), which is the prime contractor with ESA. Avio is an international group that designs and produces space launchers and both liquid and solid propulsion systems for space transportation.
ESA supervised the project and is responsible for all activities relating to flight safety and qualification of the equipment installed on board. JAVAD GNSS supported GreenLake Engineering with the integration and low-level configuration of the OEM board for this challenging application.